17.3in Full HD Extreme Gaming Notebook
TOTAL GAMING POWER FOR UNDER 1K
VERY LIMITED STOCK!
17.3in Full HD Extreme Gaming Notebook
SRP $1,999* - today just $999! SAVE $1,000!
17.3" FULL HD LED LCD display; Intel Quad-Core i7-2720QM CPU; 8GB DDR3; Blu-Ray writer
NVIDIA GT555M; USB 3.0; 750GB HDD; Win 7 Home Premium
We've got something special here, a totally powerful gaming beast for UNDER $1,000! You won't find a deal like this anywhere else! From upcoming gaming brand Activo, this machine boasts a powerful Intel i7 CPU, 2GB NVIDIA GT555GM graphics and a Blu-Ray writer. You'll have no trouble destroying demons in Diablo III or blasting baddies in Max Payne 3 with this thing. Be quick though as specs at this price never last long!
Backed by a gutsy 2.2Ghz Quad-Core Intel i7-2720QM processor with turbo boost up to 3.3Ghz and an expansive 8GB of DDR3 RAM - this machine is ready for anything! A 2GB NVIDIA GT555GM graphics card and 7200rpm SATA hard drive makes sure you'll have no trouble blowing away bad guys in the latest action titles while letting you store heaps of games, movies and music with the huge 750GB of storage space! Watch and even write Blu-Rays and DVDs with the Blu-Ray writer and they'll look incredible on the full HD LED 17" display with a 1.3MP webcam! Everything will sound great too with a TruStudio THX sound system. USB 3.0 provides extremely fast transfers so it's a breeze to transfer huge files and 9-in-1 card reader gives you a range of storage opportunities!
So don't hesitate in catching this powerful beast of a machine! At half the retail price with a saving of ONE THOUSAND dollars, it's going to run out the door. True gamers know that deals like this don't hang around for long!
Features:
Activo Gem 17.3in Full HD Gaming Notebook
17.3" LED Full HD Display
2.2Ghz Intel i7-2720QM processor with turbo boost up to 3.3Ghz
750GB 7200rpm SATA HDD
8GB DDR3 RAM
2GB NVIDIA GT555GM for stunning graphics
Blu-Ray writer for watching and writing Blu-Ray discs and DVDs
USB 3.0 port for blistering transfer speeds
HD Audio with 2 speakers powered THX TruStudio Pro
1.3MP webcam
802.11b/g/n wireless
Bluetooth V3.0 +HS
Weight: 3.1kg
1 year pick and return warranty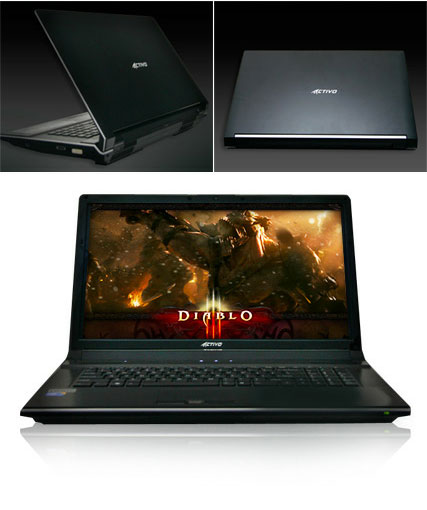 *Price reference was sourced from the supplier and was true and accurate as on the 25/06/2012.
A Bit About The Brand / More Info
Technical Specifications (GEM-710A)
Activo GEM-710 Full HD Gaming Notebook
Processor & Cache Memory: Intel® Core i7-2720QM (2.2GHz, with Turbo Boost up to 3.3 GHz)
Operating System: Genuine Windows® 7 Home Premium (64-bit)
Chipset: Mobile Intel® HM65 Express Chipset
Main Memory: 8GB ( 4GB x 2 ) DDR3 1333 SO-DIMM SDRAM
Display: 17.3" Full HD LED Resolution 1920 x1080
Video Graphics & Memory: Nvidia GT555M, 2G GDDR5 VRAM
Hard Drive: 750GB SATA HDD, 7200rpm
Optical Drive: Blu-Ray Writer
Card Reader: 9 in 1 card reader
Video Camera: 1.3 Mega Pixel
Fax/Modem/LAN/WLAN: Wireless 802.11 b/g/n + Bluetooth V3.0 +HS
I/O Ports: 1 x Microphone-in jack; 1 x Headphone-out jack; 2 x USB 2.0; 2 x USB 3.0; 1 x eSATA; 1 x RJ45; 1 x HDMI; 1 x VGA; 1 x S/PDIF jack
Audio: HD Audio, Built-in 2 speakers with THX TruStudio Pro
Battery Pack: 6 cells Smart Lithium-Ion Battery
Weight: 3.1 kg, (including ODD and 6-cell Battery)
Warranty: 1-year pick and return warranty