Bunny Tickler - Playful Vibrator
Bunny Tickler - Playful Vibrator
Don't pay more - today just $24.95!
"I'm a rabbit and I run, bring me home for lots of fun."
Fast and strong vibration
Bunny is the most energetic of the Ticklers, with a strong and fast vibration and a slightly harder silicone for intense stimulation. Bunny's two flexible ears create a popular "hugging" option.
Features:
Bunny Tickler - Playful Vibrator
Body-safe silicone build for pleasure
Fast and strong vibration
100% waterproof design
Soft coated finish
Battery life of up to 2 hours
Colour: Magenta
12 Month CatchOfTheDay Warranty Against Defects - see 'Product Specs' tab with 12 Month Warranty Terms & Conditions for more info.
Please read our general Terms & Conditions.
>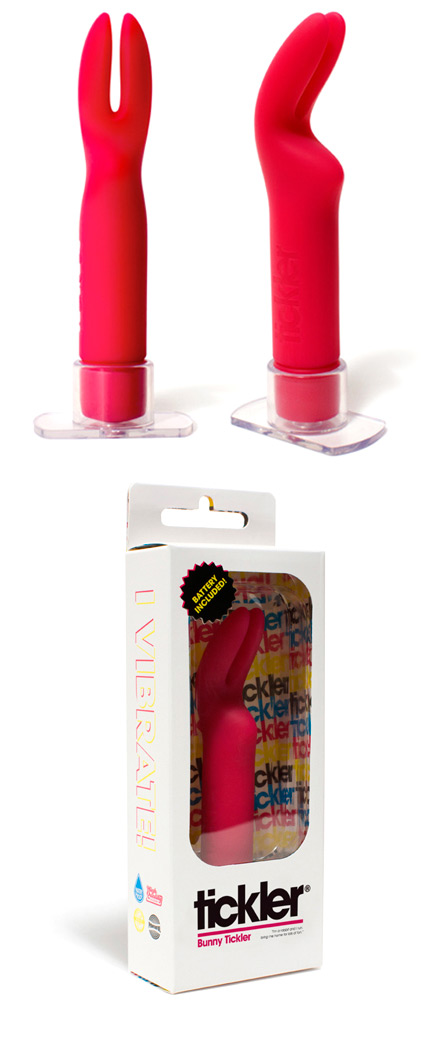 A Bit About The Brand / More Info
Technical Specifications
Size: 139 mm
Color: Magenta
Material: Bodysafe Silicone
Finish: Soft Coated
Battery: LR 1 N, 1.5V Battery (Included)
User time: Up to 2 hours
Frequency: 80 Hz
Max noise level: < 50 dB
Interface: On/Off
Weight: 59 grams
12 Month Warranty Against Defects
12 Month Warranty against Defects
When you purchase from CatchOfTheDay, above all else, we value you, our customer, and want to make your experience with CatchOfTheDay the best online shopping experience possible. If something goes wrong with your product, you should always contact us and we will do whatever we can to help. Please read the terms and conditions below that fully outline your warranty rights, and remember, we love your feedback. If you are not happy, tell us so we can improve our services for you. Full details are provided in our 12 Month Warranty Terms & Conditions.
Our goods come with guarantees that cannot be excluded under the Australian Consumer Law. You are entitled to a replacement or refund for a major failure and compensation for any other reasonably foreseeable loss or damage. You are also entitled to have the goods repaired or replaced if the goods fail to be of acceptable quality and the failure does not amount to a major failure.
To make a claim under this warranty, please read the 12 Month Warranty Terms & Conditions before contacting our Customer Service Team via our Help Centre here.
In the event that your product cannot be repaired, you may elect to choose a replacement (subject to stock availability), store credit or a full refund, including for delivery charges.
IMPORTANT
The goods you have purchased may contain warranty documents on or inside the packaging provided by the manufacturer of the product. Any such warranty documents are not given by CatchOfTheDay.com.au, and are separate from this warranty. Some warranty documents provided by manufacturers of imported goods may not apply in Australia. You should contact the manufacturer identified on the warranty document to determine whether or not the warranty applies to the goods in Australia and, if so, how you should go about making a claim under such a warranty.