Get notified when new sales are live
Subscribe to our notifications so you don't miss out on our new sales!
Cinema 60cm Round Wall Clock
Cinema 60cm Round Wall Clock
Don't pay more for eye-catching home decor
Stunning French and Cinema Inspired round wall clock
Wall mountable | Easy winding mechanism
Please note, due to its size, this product will be charged & shipped individually.
If you're looking for an affordable and cheerful way to add a vintage touch to your home or office, look no further than this soft, vintage-look wall clock. Featuring a rustic printed face with a Roman numeral display and distressed effect, it's a beautiful addition to any space. The clock boasts a durable wooden design and is easy to wall mount. So isn't it time you snapped this beauty up?
Features:
Cinema 60cm Pastel Round Wall Clock
French influenced design
Distressed look with faded colours
Roman numeral display
Great for homes, offices & more
Handy hanging hooks on rear
Easy winding mechanism
Size: 60cm diameter
Requires 1 x AA battery (not included)
Protected by our 12 MONTH WARRANTY - see 'Product Specs' tab with 12 Month Warranty Terms & Conditions for more info.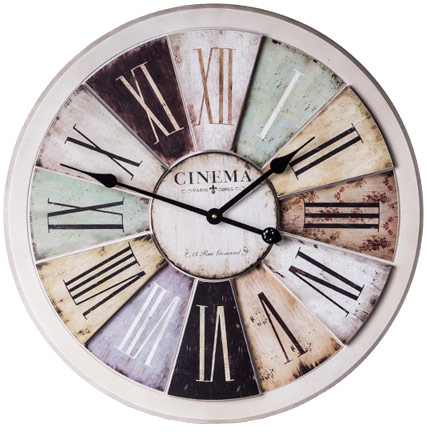 *SRP was supplied by the supplier and was accurate on 15/02/2013.
A Bit About The Brand / More Info
Cinema 60cm Round Wall Clock
French influenced design
Distressed look with faded colours
Roman numeral display
Great for homes, offices & more
Handy hanging hooks on rear
Easy winding mechanism
Size: 60cm diameter
Requires 1 x AA battery (not included)