Crayola Colour Fillz Fairy Mosaic Art Set
Crayola Colour Fillz Fairy Mosaic Art Set
Don't pay more - today just $7.95!
Easy and fun mosaic art | Kids can create their own masterpiece!
Fully inclusive set - everything kids need to get started!
This Crayola Colour-Fillz Disney Fairies set has everything you need to create fun mosaic-style portraits and scenes. It's easy! Just unfold the frame and place it over the colour guide. Then peel away the guide to see colourful bits and pieces transformed into spectacular art!
Set Includes:
1x Frame (cm): 25 x 40
1x Colour guide
Model magic (g): 113
1x Modelling tool
2x Frame clips
Features:
Easy to use; Align the guide, press and fill, then peel and reveal!
Fully inclusive set
A great gift ide
Perfect for fairy lovers
Non-toxic
Not suitable for children under 3 years, due to small parts.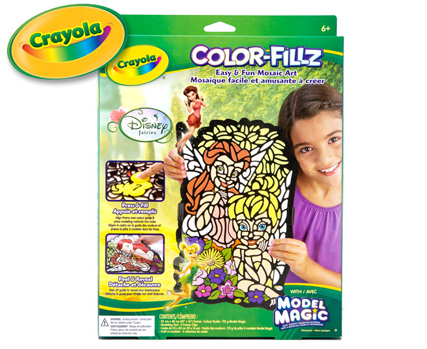 A Bit About The Brand / More Info
Set Includes:
1x Frame (cm): 25 x 40
1x Colour guide
Model magic (g): 113
1x Modelling tool
2x Frame clips
Features:
Easy to use; Align the guide, press and fill, then peel and reveal!
Fully inclusive set
A great gift idea!
Perfect for fairy lovers
Non-toxic