Crayola Crayon Town Horse Ranch
Crayola Crayon Town Horse Ranch
Don't pay more - today just $6.95!
Kids can build, colour and play on their own mini horse ranch!
3-dimensions of colour
Crayola's Crayon Town has upped the ante in colouring for kids. Their new horse ranch is a 3-dimensional blank canvas waiting to be brought to life by an active imagination. The set includes a cowboy figurine complete with his trusted horse so kids can interact with their prime property. That means their learning architecture and design and still keeping it just plain fun. Colouring books will never be the same. Howdy, how good is it?
Set Includes:
1 x Cowboy
1 x Horse
1 x Pony
1 x Horse Cart
1 x Fold and build stable
2 x Fold and build fences
2 x 279x432mm Double sided colouring mats
4 x Crayons
Features:
A fully interactive colouring experience
Colour and build at the same time
All Crayola art materials are non-toxic
Not suitable for children under three due to small parts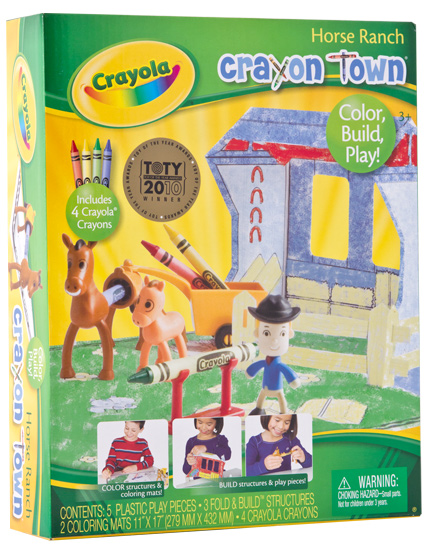 A Bit About The Brand / More Info
Set Includes:
1 x Cowboy
1 x Horse
1 x Pony
1 x Horse Cart
1 x Fold and build stable
2 x Fold and build fences
2 x 279x432mm Double sided colouring mats
4 x Crayons
Features:
A fully interactive colouring experience
Colour and build at the same time
All Crayola art materials are non-toxic