Crayola Pop Art Pixies Colour Glow Lamp
Crayola Pop Art Pixies Colour Glow Lamp
Everything kids need to create a funky colour glow lamp!
Customizable to suit your individual taste!
Rocking lampshade designs
The Crayola Colour Glow Lamp proves that it is never too early to start thinking about interior decorating. Standing at thirty centimeters tall, this fully customizable lamp shade is the perfect canvas for mixing it up with the included decal sheets full of coloured stickers. Let the kiddies light up the night with creativity and style.
Set Includes:
1 x Decal Sheets with coloured stickers
1 x lampshade
1 x mirrored cone
1 x LED light duo-mode lamp base
Features:
Customizable Lampshade
Light sensitive stickers add colour and character to any space
Enjoy thirty centimeters of mini-monument that flashes in living colour
Great for setting the mood at birthday parties and story time
Not suitable for children under three due to small parts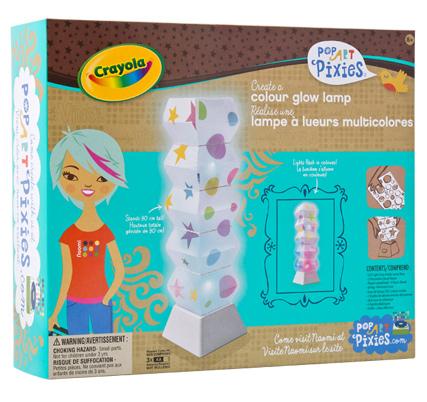 A Bit About The Brand / More Info
Set Includes:
1 x Decal Sheets with coloured stickers
1 x lampshade
1 x mirrored cone
1 x LED light duo-mode lamp base
Features:
Customizable Lampshade
Light sensitive stickers add colour and character to any space
Enjoy thirty centimeters of mini-monument that flashes in living colour
Great for setting the mood at birthday parties and story time