Crayola Pop Art Pixies Glass Vase Set
Crayola Pop Art Pixies Glass Vase Set
Don't pay $15.50* - today just $7.95!
Encourage children to unleash their inner artist with Crayola
Fully inclusive creative art set for kids - the perfect gift!
Crayola art supplies are designed specifically for little hands. They are the perfect tool for toddlers and preschoolers (and even adults) to explore their inner artist and connect with colour. With the rainbow at your fingertips the only limit is your imagination.
Crayola Pop Art Pixies glass vases are another great addition to the company's creative catalogue. Hours of creative practice will encourage young artists to think outside of the box and create long-lasting gems you can keep forever.
Set Includes:
3x Glass vases
6x Paint pots
1x Paint brush
Stick on gems and
Stencils
Features:
Fully inclusive children's art set-everything they need to create their own vase designs
Join the Pop Art Pixies online community to share ideas and unique creations
All Crayola art materials are non-toxic
A fun way to create and inspire
Children can express their individuality with custom designs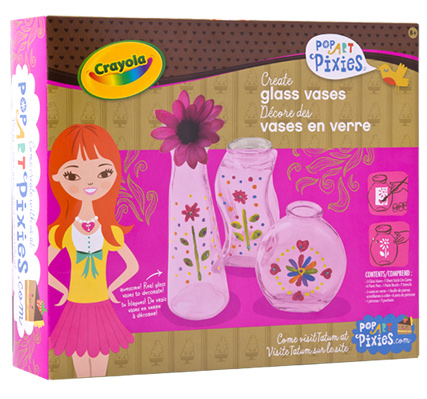 Not suitable for children under 3 years, due to small parts
*Price reference was sourced from Toysparadise.com.au and was true and accurate as on the 08/08/2012.