Get notified when new sales are live
Subscribe to our notifications so you don't miss out on our new sales!
Interchangeable Pearl/Crystal/Onyx Earrings
Interchangeable Pearl/Crystal/Onyx Earrings
Gleam & glisten with three pairs of 8mm earrings
Interchangeable pair of sterling silver hooks
Packaged in beautiful box - ready for gift giving!
These may be minimal in style and dainty as can be, but each pair of elegant 8mm interchangeable hook earrings will add a touch of style to any outfit! You'll receive a pair of pearl earrings, a pair of crystal-encrusted earrings and a pair of black onyx earrings, that are all interchangeable with the one pair of sterling silver hook backings. You can mix and match to suit your look or occasion with utter ease! Crafted with the utmost care, you don't have to worry about damaging any of these little treasures. So whether it's day or night, show off that effortless elegance - because you deserve to!
Features:
Interchangeable Earrings with Sterling Silver Hooks
Glamourise and complete any outfit
Interchangeable 8mm earrings - pearl, crystal encrusted and black onyx
Each pair slips onto the included pair of sterling silver ear hooks
Mix and match and choose the perfect style with complete ease!
Great to wear day or night!
High quality make for durability
Sparkly and light-catching designs
Elegant and subtle, can be worn anywhere - at work or out to dinner
Comes beautifully boxed for gift giving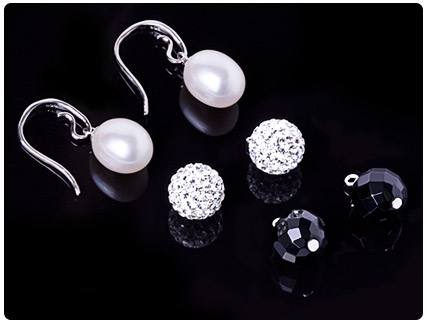 A Bit About The Brand / More Info
Interchangeable Earrings with Sterling Silver Hooks
Glamourise and complete any outfit
Interchangeable 8mm earrings - pearl, crystal encrusted and black onyx
Each pair slips onto the included pair of sterling silver ear hooks
Mix and match and choose the perfect style with complete ease!
Great to wear day or night!
High quality make for durability
Sparkly and light-catching designs
Elegant and subtle, can be worn anywhere - at work or out to dinner
Comes beautifully boxed for gift giving