iPhone-Controlled Flying Quadricopter!

Please note: Video is for demonstration purposes only, please check functionality and colours under 'features' below
iPhone-Controlled Flying Quadricopter!
SRP $349.95*, today just $129.95!
Conveniently controlled by an iPhone, iPod touch or iPad device
Autopilot mode for easy takeoff and landing; Highly Durable; front camera to stream and record live video images; augmented reality game compatible
An exciting quadricopter device - for indoor or outdoor use!
Please note: This Product comes in blue, green and yellow colour options, make your selection at checkout!
What's better than a remote control helicopter? How about a Quadricopter for better balance and power? Then let us do away with the pesky remote control device so you can control it all from the WiFi convenience of your iPhone, iPod touch or iPad with tilting and touching actions! We'll then add a forward facing camera so you can stream and record live video images to your control device, throw in an autopilot mode for easy landing and takeoffs - then bring it all in for an amazing price! That's what you're getting with this Parrot AR.Drone Quadricopter, so secure yours by clicking 'bite me' now!
iPhone/iPod/iPad-Controlled Flying Quadricopter!
Simply use your compatible Apple device by tilting and touching to control the Quadricopter
High-technology sensors including a wide angle and high-speed camera for simple piloting
Autopilot function allows easy takeoff and landing with stability control during takeoff or for a lost connection
Forward facing camera to stream live video images to the screen of your compatible Apple device
The full hull shield protects the Quadricopter from impacts - indoor and out
Made from carbon fiber and high-resistance plastic for added durability and easy repair
Take on your friends in a full-flight Quadricopter dogfight
Free piloting App readily available from the App Store
Wide variety of single and multiplayer games in augmented reality available from the iTunes App Store
12 month warranty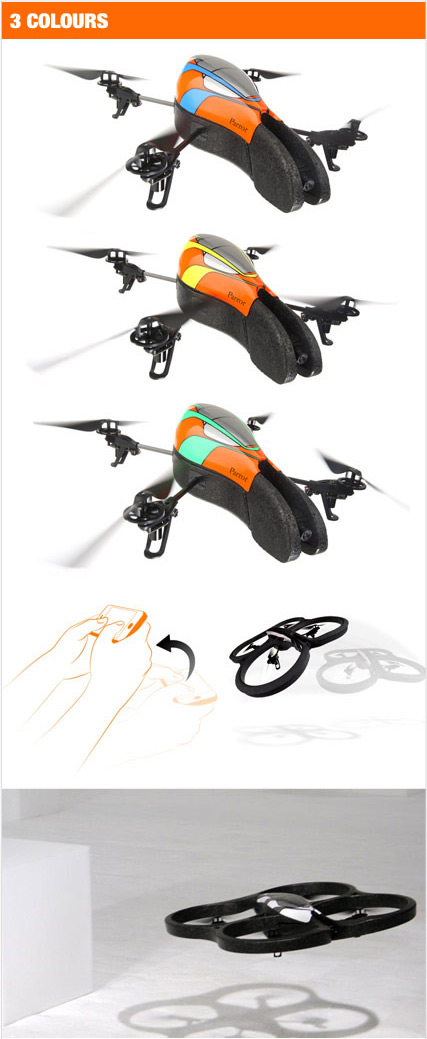 *Price comparison was sourced from manufacturer, and was accurate as of 27/08/12.
A Bit About The Brand / More Info
Specification:
Compatible with iPhone 3GS, 4S & 4, iPod Touch 4th gen., iPad 1st generation, iPad 2 2nd gen.
Forward facing camera
Sensors: Accelerometer, gyro and ultrasound
Remote control range: 50 metres
Autopilot mode to 80cm and upon lost connection
1x Indoor hull + 1 x Outdoor hull
Battery & Battery Charger
Four adaptors (EU, US/JP, UK, Aus/NZ)
Sticker for outdoor hull (for multiplayer battles)
Made from Carbon fiber and high-resistance PA66 plastic
User manual and quick start guide
Size: Width: 29 x 27.9 cm
Weight: 380g
12 month warranty