Lorex 2K Super HD Recording and Lorex Cloud Connectivity
Lorex Product Code: LNR1182
Perfect IP Based CCTV Recording System using Cat5e/6 Cable. Onvif Compatible system which will support many other Dahua Based Cameras.
Simple operation with Remote Viewing using the Lorex App.

Viewing your world in high definition has never been easier than with the new LNR100 Series HD Network Video Recorder (NVR). Install your cameras with a single Ethernet cable that provides both power and video for a truly plug-and-play surveillance experience. Record in stunning 2K resolution HD video up to 30 frames per second. Maintain vigilance with the ultimate in recording resolution and picture quality in your corner.#### LNR182
SPECIFICATIONS
8
CHANNELS
LNR supports up to 8 cameras
2K
RESOLUTION
Double the resolution of HD 1080p
2TB
HARD DRIVE
Maximum Capacity 1 x 4TB hard drives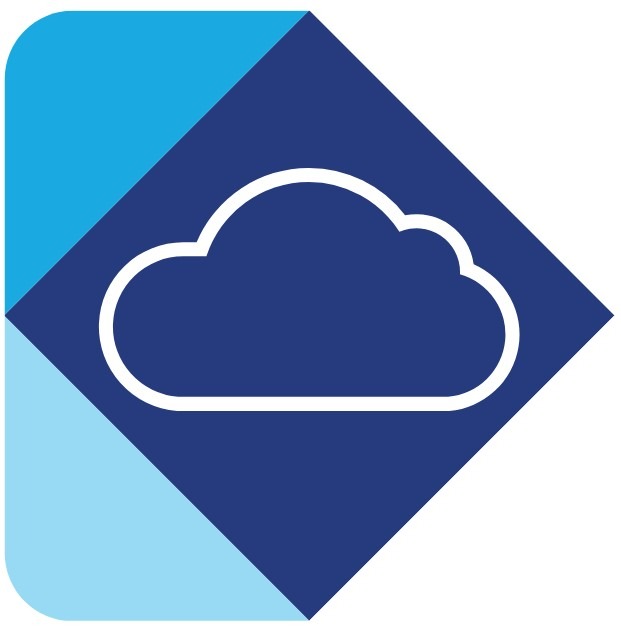 Lorex Cloud™ Enabled
2K resolution recording
The LNR182 NVR supports extreme 2K resolution recording on every channel. This capability will deliver a new level of detail and clarity when combined with a 2K resolution security camera. The higher resolution also adds an increased ability to zoom in on distant objects without drastically reducing image quality. The LNR182 NVR can also support a wide range of our compatible 1080p digital IP security cameras. This allows you to combine 2K and 1080p security cameras within the same system.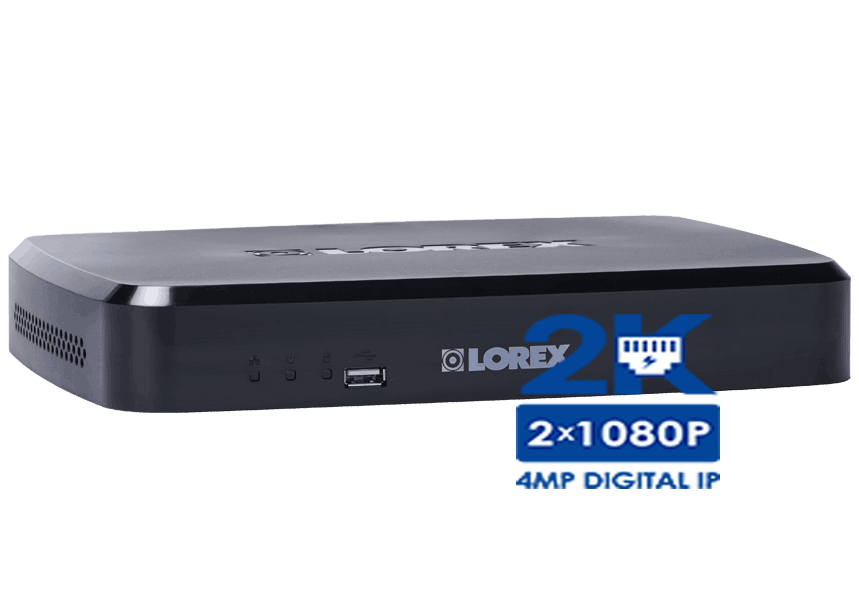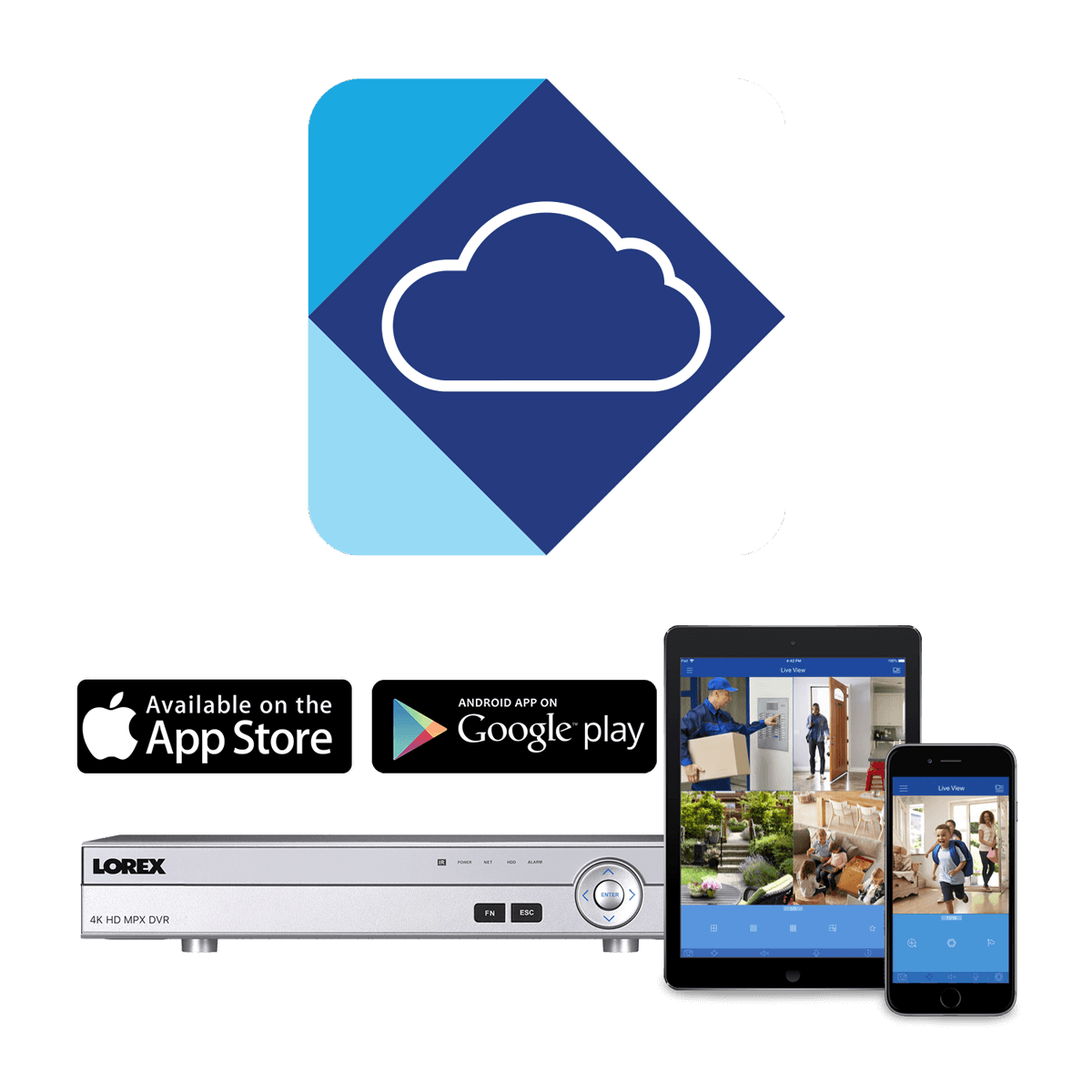 Remote viewing from your mobile with Lorex Cloud™
The included DVR is designed for use with our innovative hassle-free Lorex Cloud™ app. Using Lorex Cloud™, you can quickly and easily view your security system remotely from your smartphone or tablet. There are no difficult port forwarding or other complicated network setups either. Simply download the free app, scan the QR code on the DVR and your cameras will appear for you to monitor (or review footage). You can also program the app to send you motion-activated push notifications and email alerts with screenshot attachments straight to your phone to keep you connected to your property at all times.
Works with

High quality hard drive reliability
Record surveillance footage to the security grade 100% duty-cycle hard drive designed for surveillance, providing weeks or even months of reliable video. Customize the recording settings to fit your needs. Record at 2K HD (2688×1520) for the highest resolution, or change the settings to a lower resolution for extended recording time.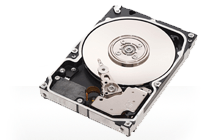 The LNR100 Series features a simplified installation that saves time when setting up your cameras. The auto-detect function automatically discovers and configures compatible IP cameras on the same local network as the NVR. Simply connect your cameras to the built-in Power over Ethernet (PoE) ports using a single Cat5E Ethernet cable - no power supply required.
The Lorex LNR100 Series NVR delivers a truly unique surveillance experience, combining real-time HD video with first-class remote connectivity software that makes on-the-go monitoring a breeze! Start viewing your world in full HD and discover the ultimate way to stay connected.






Recording4mp (2272×1704)Full 1080p HD (1920x1080)720p HD (1280x720)Analog 1080p HD (1920x1080)720p HD (1280x720)Platform2K NVR systems1080p HD NVR systems720p HD NVR systems1080p HD DVR systems720p HD DVR systemsVideoDigital IP / RJ45 connectionDigital IP / RJ45 connectionDigital IP / RJ45 connectionAnalog BNC / RG59 connectionAnalog BNC / RG59 connectionPowerPoE (Power over Ethernet)PoE (Power over Ethernet)PoE (Power over Ethernet)Standard DC powerStandard DC powerInstallationConnect cameras to NVR or to router/LANConnect cameras to NVR or to router/LANConnect cameras to NVR or to router/LANCameras require wired connection to DVRCameras require wired connection to DVRResolution2K = 4 megapixels1080p = 2 megapixels720p = 1 megapixels1080p = 2 megapixels720p = 1 megapixels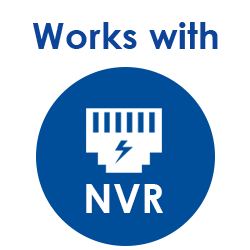 NVR Network Video Recorder
Security NVRs will connect to IP cameras using CAT5 network cables and will store pre-compressed video footage from IP cameras.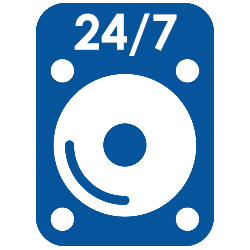 24/7 100% Duty cycle hard drive pre-installed
The hard drives are designed to work in a security environment, including simultaneous recording & playback from various streams.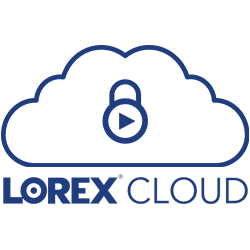 Lorex Cloud Connection and Apps
Lorex Cloud will help simplify and organize your life by keeping track of all your security cameras from anywhere in the world on any iPhone®, iPad® or Android® devices.
FEATURES:
LNR1182
Network Video Recorder Features:


- High definition 2K recording
Real-time recording at 30fps per channel1

8 Built in PoE (Power Over Ethernet) ports providing video and power on a single Ethernet cable

Automatically detects compatible IP cameras in the network2

Expand your system with a network PoE switch, sold separately3

24/7 security-grade hard drive4

Continuous, scheduled and motion recording

Simultaneous playback and live view on the same screen

Selectable area digital zoom in live view and playback

Accurate time stamps with NTP & daylight savings time

H.264 video compression4

Instant USB backup of live video from the selected camera

2 video outputs (HDMI & VGA) to connect multiple monitors

HDMI cable included for simple connection to HD TVs

Keep up to date with automatic firmware upgrades5

3-Step remote view with Lorex Cloud™ 6

PC and Mac compatible7

Free iOS™ and Android™ compatible apps with live viewing, playback, video recording, and snap shot7

Dedicated iPad® app with multi-channel live viewing and playback7

Push notifications of motion events

Instant email alerts with snapshot attachment

Dual streaming to conserve bandwidth