Melissa & Doug Vehicles Sound Puzzle
Don't pay more for a fun, 8-piece puzzle!
Place puzzle pieces over picture to hear real sounds!
Encourages hand-eye, fine motor & creative expression skills
Melissa & Doug, a husband and wife team, have been designing toys for over 20 years and aim at producing only the best possible value, quality and design. Constructed from strong wooden materials and featuring bright, lively colours, Melissa & Doug toys are made to last and entertain your little one for years. From playful puzzles and pretty beads, to magnetic dress-ups and rolling vehicles, there is a cherished toy here for every girl and boy.
Features:
Melissa & Doug Vehicles Sound Puzzle
Sturdy wooden construction
Vehicles piece design
8 noisy vehicle pieces in total
Place vehicle puzzle pieces in puzzle to hear real vehicle sounds
Crafted by hand
Pictures under pieces
Requires two AAA batteries (not included)
Suitable for children aged 2 years and up
Protected by our 12 MONTH WARRANTY - see 'Product Specs' tab with 12 Month Warranty Terms & Conditions for more info.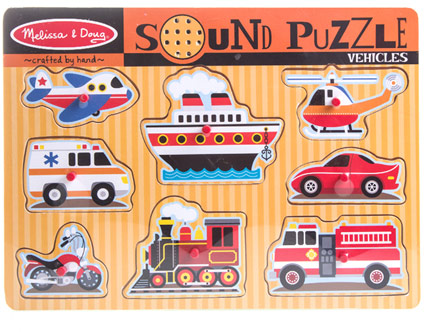 A Bit About The Brand / More Info
Melissa & Doug Vehicles Sound Puzzle
Sturdy wooden construction
Vehicles piece design
8 noisy vehicle pieces in total
Place vehicle puzzle pieces in puzzle to hear real vehicle sounds
Crafted by hand
Pictures under pieces
Requires two AAA batteries (not included)
Suitable for children aged 2 years and up
Protected by our 12 MONTH WARRANTY