Meon Light-Up Bike FX Triple Pack
CHECK OUT THIS COOL PRODUCT IN ACTION!
Meon Light-Up Bike FX Triple Pack
Keeps you safe at night while looking cool!
Wheel writer makes pictures appear | Gyro-flasher creates pulsating colour display | Light striper to pinstripe your bike with
Includes a light-up speedometer to check your nighttime speeds!
Great gift for any bike enthusiast you know!
Not only will you be looking fly with this neon set, but you'll be staying safe! Attach the neon light striper to your bike's frame for cool futuristic streaks, put the gyro-flasher on your spokes for a pulsating and spinning display and attach the wheel writer for a magical display. There's even a working speedometer so you can display your speed to the world! You'll be the coolest night rider around!
Features:
Meon Light-Up Bike FX Triple Pack
Trick out your bike with hi-tech light effects
3-piece set - be seen, be safe
A great gift idea
Works with most bike wheels 20" and up
Batteries: 6 x AAA and 2 x AA required (not included)
Protected by our 12 MONTH WARRANTY - see 'Warranty' tab with 12 Month Warranty Terms & Conditions for more info.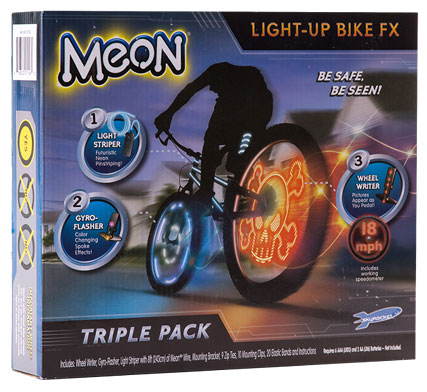 A Bit About The Brand / More Info
Meon Light-Up Bike FX Triple Pack
Trick out your bike with hi-tech light effects
3-piece set - be seen, be safe
A great gift idea
Works with most bike wheels 20" and up
Batteries: 6 x AAA and 2 x AA required (not included)
Protected by our 12 MONTH WARRANTY