Phillips 1m Mini HDMI Cable - Purple/Black
Phillips Retractable 1m Mini HDMI Cable - Purple/Black
Expect to pay HEAPS more elsewhere for this tech must-have!
1 metre mini HDMI cable | Retracts into a sleek storage box
Connect up your laptop & watch full HD movies on your TV!
Usually you'd expect to pay through the nose for a simple HDMI cable: just think what the damage would be for a double-sided, retractable one! This one metre cable extends from a sleek storage box, and allows you to easily connect your laptop to your HD TV so you can enjoy full 1080p goodness on that spiffy flat-panel of yours!
Features:
Phillips Simply Connect mini HDMI Cable
Mini HDMI to regular HDMI connection
Storage case colour: Black
Cable colour: Purple
Fully retractable, 1 meter cable
Comes in a sleek storage box
Cable ends clip down when retracted
Enjoy high-speed data transfers
Delivers crisp, full 1080p HD resolution straight to your TV
Easily connect your PC, Laptop to your HD TV
Protected by our 12 MONTH WARRANTY - see 'Warranty' tab with 12 Month Warranty Terms & Conditions for more info.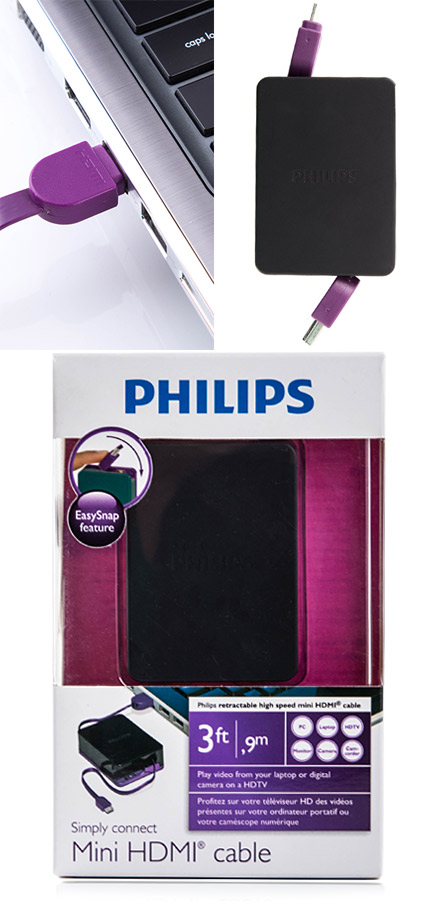 A Bit About The Brand / More Info
Phillips Simply Connect HDMI Cable
Storage case colour: Black
Cable colour: Purple
Fully retractable, 1 meter cable
Comes in a sleek storage box
Cable ends clip down when retracted
Enjoy high-speed data transfers
Delivers crisp, full 1080p HD resolution straight to your TV
Easily connect your PC, Laptop to your HD TV
Mini HDMI to regular HDMI connection
Protected by our 12 MONTH WARRANTY