Playgro Amazing Garden Musical Mobile
Playgro Amazing Garden Musical Mobile
Don't pay more for educational baby toys!
Brightly coloured | Flower plays sweet music
Great for the crib or cot | For newborns & up
Aussie-born Playgro infant development toys are trusted by parents all over the world. Designed to meet the developmental needs of your baby this innovative, brightly coloured toy is soft, safe and a whole lot of fun!
Features:
Playgro Amazing Garden Musical Mobile
From the Amazing Garden range
Easy attachment
Hang from the crib or cot
Includes:

4x plush characters
Flower centrepiece with hook for attachment
1x wind-up music box
1x sturdy arm
1x set of cross arms

Vibrant colours & patterns encourage visual perception
Will keep your baby entertained for hours!
Safe and non-toxic
Designed in Australia
Suitable for newborns to 5 months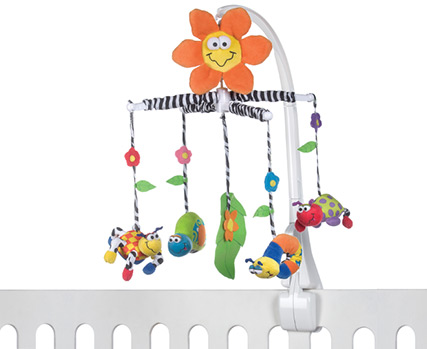 A Bit About The Brand / More Info
Playgro Amazing Garden Musical Mobile
From the Amazing Garden range
Easy attachment
Hang from the crib or cot
Includes:

4x plush characters
Flower centrepiece with hook for attachment
1x wind-up music box
1x sturdy arm
1x set of cross arms

Vibrant colours & patterns encourage visual perception
Will keep your baby entertained for hours!
Safe and non-toxic
Designed in Australia
Suitable for newborns to 5 months