Tefal Breakfast Pack - Kettle and Toaster
Tefal Breakfast Pack - Kettle and Toaster
Today just $48.70 - don't pay more!
Includes a cordless stainless steel kettle and a stainless steel toaster
Outstanding value - expect to pay around double elsewhere!
Well known as one of the leading brands in kitchenware, Tefal can be found in most electrical and homeware stores. Shop around and you'll find cordless Tefal kettles alone selling for around $70*. Look for this exact pack online and you'll find it selling for $99*! Try this: today you can get the Tefal Breakfast Pack which includes a stylish kettle and a toaster for UNDER $50 - that's a huge saving, and a real deal!
Throw away that old toaster from the Eighties, and give your stove-top kettle a spot at the back of the cupboard, 'cause it's time to go modern with Tefal! Ideal for a new home or just to spruce up your kitchen, this 2 piece breakfast pack includes a 1.7L stainless steel cordless kettle with a removable anti-scale filter, plus a 2-slice stainless steel toaster with extra wide and deep slots suitable for toast, muffins and crumpets. This matching set looks great on the counter and will hook you up with a hot cup of coffee or tea and some toast in no time. This is a deal that you can't refuse!
Features:
Kettle:

Brushed stainless steel finish
Capacity: 1.7 Litre
2 water viewing windows
Handle activated hinged locking lid
360 degrees rotational base
Removable anti-scale filter
Illuminated On/Off switch
Cordless with cord storage under base
Power: 2200W concealed element

Toaster:

Brushed stainless steel exterior
Extra wide and deep slots
Defrost, Reheat and Cancel functions
Variable browning control - 6 settings
Cool touch exterior
Lift and Look feature
800W
12 month warranty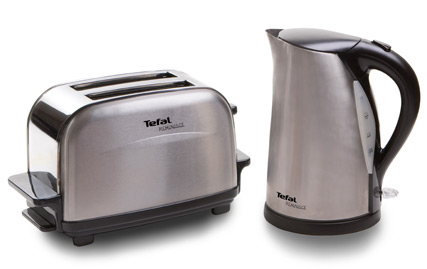 *Price comparisons were made on the 28/03/2012 and were true and accurate.
A Bit About The Brand / More Info
Features:
Kettle:

Brushed stainless steel finish
Capacity: 1.7 Litre
2 water viewing windows
Handle activated hinged locking lid
360 degrees rotational base
Removable anti-scale filter
Illuminated On/Off switch
Cordless with cord storage under base
Power: 2200W concealed element

Toaster:

Brushed stainless steel exterior
Extra wide and deep slots
Defrost, Reheat and Cancel functions
Variable browning control - 6 settings
Cool touch exterior
Lift and Look feature
800W
12 month warranty