Get notified when new sales are live
Subscribe to our notifications so you don't miss out on our new sales!
Vans Era - Charcoal/Wild Dove - US 5
Vans Era - Charcoal/Wild Dove
Just $37.99 for a classic pair of skate shoes!
For skate or daily use | Outsole provides flexibility and grip!
Available in men's US sizes - see size chart below for correct fit!
Vans is the original action sports footwear company grounded in youth, authenticity and individual style. They've been making quality shoes since the height of cool with style and comfort to match!
Features:
Vans
Style: Era
For men & women
Colour: Charcoal/Wild Dove
Model No: VN-0EWZQEA
Textile upper, lining and sock
Classic vulcanized gum rubber "waffle" outsole provides flexibility and grip
White eyelets
Lace up style front for customizable fit
white laces
Contrasting white stitching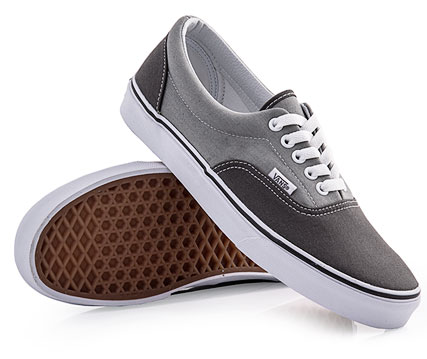 A Bit About The Brand / More Info
Vans
Style: Era
Unisex
Colour: Charcoal/Wild Dove
Model No: VN-0EWZQEA
Textile upper, lining and sock
Classic vulcanized gum rubber "waffle" outsole provides flexibility and grip
White eyelets
Lace up style front for customizable fit
white laces
Contrasting white stitching