Victorinox Horizontal 13'' Laptop Sleeve
Victorinox Horizontal 13" Laptop Sleeve
Expect to pay HEAPS more elsewhere!
Stylish yet rugged laptop protection!
Cross suspension design keeps your laptop safe
This laptop sleeve is designed by the company that created the legendary Swiss Army Knife and while it doesn't have an in-built corkscrew, it does offer superior protection. The progressive cross suspension system suspends and cradles your laptop during unfortunate impact while the rigid wall panel protects from punctures and side damage. Use to transport your laptop whilst in your briefcase or attach your own shoulder strap for added portability.
Features:
Victorinox Horizontal 13" Laptop Sleeve
From the brand that created the Swiss Army knife
Designed to hold laptops up to 13"
Horizontal design
Cross suspension suspends and cradles
Rigid wall panel to protect from punctures
Carry in your bag, briefcase or attach your own shoulder strap
Colour: Black
Material: Ballistic nylon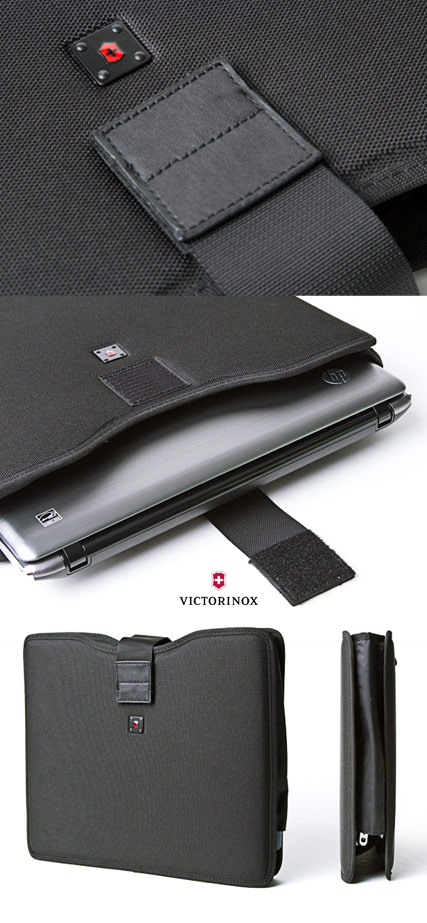 A Bit About The Brand / More Info
From the brand that created the Swiss Army knife
Designed to hold laptops up to 13"
Horizontal design
Cross suspension suspends and cradles
Rigid wall panel to protect from punctures
Carry in your bag, briefcase or attach your own shoulder strap
Colour: Black
Material: Ballistic nylon