Top 4 Winter Coats for Stylish Doggos
Just like us, our dogs need to be kept warm and comfy on these cold winter days. In fact, if you feel like you need an extra layer to stay warm, your pup may need it too.
Their thick coat of hair helps keep them warm and retain essential oils in their skin, but sometimes it's just not enough when the temperature drops.
That's where dog coats should come into the picture! We're sure you truly feel the difference after throwing on a good quality winter coat on a chilly day. Not only are cold wind and air blocked out significantly, they help retain your body temperature, keeping you warmer for longer. The same undoubtedly applies for/to winter coats for dogs.
How do I know which coat is right for my dog?
Here are the top 4 factors you should focus on when it comes to choosing a dog coat!
Size - It goes without saying, but you want to make sure the coat you pick out actually fits your doggy! Too tight and it can be very uncomfortable and difficult to breathe, no matter how warm it may be or stylish it may be. Too big and the full potential of a wind-blocking, warmth-retaining coat will be wasted. The general rule of thumb is to measure your dog from the back of its neck to the base of its tail to determine sizing. Whether you're shopping at a store or online, most dog coats will provide some sort of size guide to help you out. For example, with dog coats by Paws & Claws, a 'Small' is best suited for dogs with a measurement of 20-35cm (e.g. Malteses, Pomeranians, Poodles, Chihuahuas) a 'Medium' for 40-55cm (e.g. Bulldogs, Fox Terriers, Cocker Spaniels), and a 'Large' for 60-80cm (Labradors, Golden Retrievers, Huskies, Dalmatians). Remember - sizing may depend on the brand, so always double check.
Material - This is another major point when it comes to picking out a dog bed. Just like our clothing industry, the industry for dogs clothes is constantly expanding, with new designs, fits, technology and materials being utilised by the day! Since we're talking about winter here, you want to ensure that the material(s) of your dog's coat is designed to keep them warm. But you should also keep in mind how much fur your lil' (or not so lil") one has. Again, it goes without saying - the less fur your doggo has, the warmer/thicker the winter coat should be. Some materials you'll come across are polyester, jersey, cotton and wool. Note: wool can irritate pups with sensitive skin - so we recommend testing their sensitivity to wool beforehand.
Quality - No matter how stylish a dog coat is, quality and functionality should never be compromised! After all, dogs are very active and energetic animals (well, most are..). That's why getting your doggo a durable coat that's bound to last is a good idea. Higher quality will most likely cost you more, but you'll be saving yourself from spending money in the long-run, and from the hassle of having to buy a new dog coat every winter to replace a worn-out one. We suggest checking out online reviews and popular dog coats online to see what's hot and what's not.
Aesthetics - Winter coats are the perfect way to channel your dog's inner fashionista! Who knows, if dogs could talk, maybe they would want to have a say in the type of outerwear they want to rock when hitting the streets for a walk. But since us humans are the ones picking out the coat, we have the freedom to choose any design we wish! From single colour to multi-colour, polka dot to striped, denim to fleece - you're spoilt for choice (especially when shopping here at Catch). If you love getting creative, you could even customise your dog's new coat by sewing on cute patches!
We've picked out some of our favourite dog jackets and dog winter coats that'll keep your furry pal happy and healthy, without costing you a bomb.
Explore now, thank us later. See our best offers of dog coats << here >>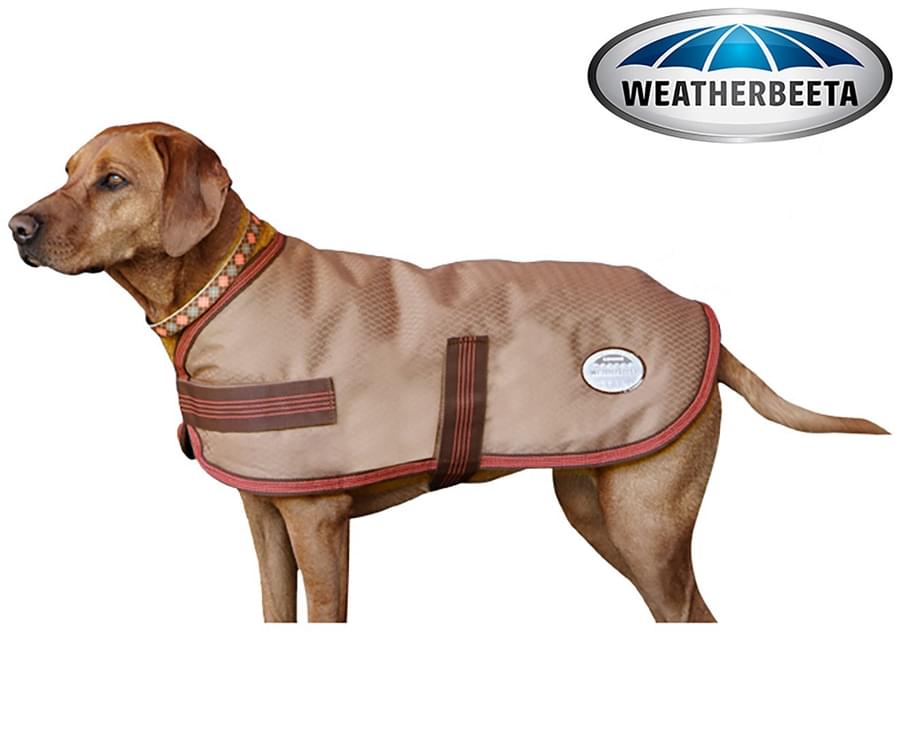 WeatherBeeta Landa Dog Parka
Protect your precious pup from the elements with this super stylish dog parka! Waterproof, breathable and perfectly durable, this lightweight dog jacket is built for outdoor protection.
WeatherBeeta coats help protect your dog from the cold, featuring polyfill padding and durable nylon lining for a fit that's as comfortable as it is practical. Fully machine washable, this handy dog jacket is the perfect addition to your pet's winter wardrobe.

Outback Brown Oilskin Coat
Ruff n Rugged offers the cutest jackets and coats made especially for dogs. Created to withstand the cold, R n R jackets are durable, form fitting and lightweight, making them ideal for dogs of all sizes. Be it rain, wind or snow, these coats not only keep your pets warm, they'll make your furry friends the talk of the dog park - super stylish and adorable. The Ruff n Rugged Oilskin Coat features an easy harness that lets you slip this bad boy on your dog in record time. This non-restrictive coat is crafted with comfort as top priority - it's 100% waterproof and looks great on any pup of any size.

Dog Jacket Padded Waterproof Pet Clothes
Ideal for night time walkies, this winter warmer features a bright yellow stripe that lets your pup stand out in the dark. Made with waterproof material, these jackets are easy to wash in cold water and dry quickly. With great padding, these dog jackets provide an extra layer of protection and comfort, all the while providing full range of motion for leaping and ball-chasing. This jacket comes in several sizes: medium, large, x-large and xx-large. At this price, it's a steal - check it out at Catch now!

The Purina Petlife range features odour resistant dog coats designed to keep your pup stylish and most importantly, comfy. With their bacteria killing Silver-Ion technology, Petlife creates its coats with odour fighting micro fleece lining that's strong yet soft - making their dog coats the perfect mix of durable and flexible. What's more, is that these coats are designed with reflective details to keep your furry buddy safe at night. No matter what the weather conditions - your doggo will be extremely comfortable in this fabulous number.