Let the Gains Begin: The muscle-building stack that won't set you back
Let's face it - getting 'swole' can cost you some serious dollar.
Whether you're the next Mr. Olympia or an everyday gym junkie looking for that next-level physique, you'll need the right supplements and protein powder to help you refuel.
The good news is, you can now get the best (and nothing but the best) on a budget - right here at Catch.
Check out this complete muscle-building stack and save big bucks on your gains this seas...
Your post-workout shake never tasted so good. The best thing about ON's famous Gold Standard Whey is the ridiculous range of tantalizing flavours. Double Rich Chocolate, Mocha Cappuccino, Cookies & Cream… the list goes on and on. This massively flavourful tub now comes in a whopping 1.6kg size - that's 50 servings of pure protein magic. Perfectly mixed with cold water and milk, this super tasty protein powder helps you replenish and recover after a tough workout. What's more, a Gold Standard shake makes for a great midday snack too.
Hint: Pop some Gold Standard Extreme Milk Choc into a blender with milk, frozen banana and peanut butter. We call it the King Kong Shake. You're welcome.
Pack up your Gold Standard Whey all ready to go in this super practical shaker bottle by ON! Whether you're off to the gym or the office, you can take a fat scoop of protein with you wherever you go. This sleek 600mL shaker bottle lets you store your protein in its bottom capsule - keeping it fresh until you're ready for mixing.
Shake up your whey the easy way with a comfortable bottle grip and a filter panel that breaks up even the feistiest chunks. Clip this baby onto your gym bag with the included loop fastener and go smash your workout - afterwards, just fill the bottle with ice cold water and add your protein, shake 'er up and you've got a funky fresh post-workout reviver that's completely hassle-free.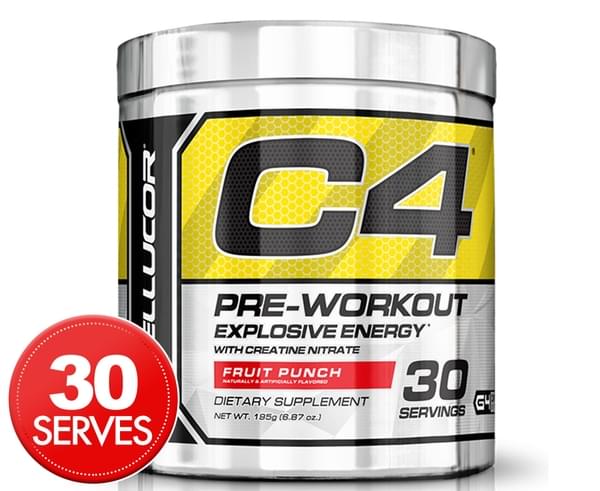 Go full beast-mode with this punchy pre-workout powder! Packed with Caffeine for energy, Creatine Nitrate for strength, Beta Alanine for endurance and much more, this beauty packs a serious punch into your workouts. With a total of 30 servings, this Fruit Punch flavoured beauty is ideal for those explosive workouts. Rep after rep, you'll feel the difference with Cellucor C4.
Grab this wicked pre-workout at Catch today and get pumped up like never before...
If you're dreaming of becoming a lean mean machine, Hydroxycut can help get you there. If you're eating right and training consistently, this next-gen weight loss support supplement gives you that extra boost to keep you on your path to getting shredded. This advanced weight loss supplement triggers thermogenesis in the body - helping you burn calories in and out of the gym.
This handy supplement now comes in a 100-capsule bottle and has additional benefits of aiding your focus and energy levels throughout the day. The perfect weight loss partner to a weight cutting regimen, Hydroxycut is a winner for pros and beginners alike.