The Best Running Shoes Have a new Name: ASICS
Whether you're a beginner or advanced runner, choosing the perfect running shoes can be tricky. A great pair of runners can't just look good - they need to feel great, complement your running style, foot positioning and a few other key things.
Sound confusing? Don't stress - we've got you covered. ASICS running shoes come in a huge range that's friendly to all budgets and running abilities. With a huge array of different styles and fits available, you'll find the right pair with ASICS in no time.
Read on to find out how you can easily pick the perfect pair of ASICS running shoes.
What's your style?
The latest trend in stylish running shoes is vibrant colour schemes. If you want to run and feel stylish at the same time, look no further, Asics have the range for you! Asics are known for their colourful and comfortable runners. They offer a range of different types of runners in pretty much all the colours you athletes could ever dream of.
Vibrant Mix
For all those who aren't afraid to stand out and and love a vibrant mix of colours, GT-2000 5 are the runners for you. These shoes feature a FluidRide Midsole for exceptional bounce-back and foot cushioning. What's more, they come in 7 amazing vibrant colours.
Light Mix
If the neutral colour pallet appeals to you, then the GEL-Nimbus 19 is what you've been dreaming of. The new and improved GEL-Nimbus 19 are the ultimate shoes for neutral runners. These shoes feature ASICS' revolutionary FlyteFoam midsole-technology. The design is outfitted with a gradient jacquard mesh, that makes sure the foot stays tight and secure. Not to mention, the 3D-printed overlays offer added support when you need it most.
Dark Mix
Colour shifting style for modern flair, these sleek shoes feature doctor-approved design with improved fit. This combo provides a stable and comfortable run, each and every time.
Start off your day wearing the brightest of colours with the ASICS GEL- Kayano 24 running shoes. These fluro-coloured shoes will take your morning run or cardio session farther than ever before, seamlessly hugging your feet for that cushioned feel. Similar to the GEL-Nimbus 19, the design is outfitted with a jacquard mesh and a comforDry X-40 Sockliner for necessary breathability!
If you want a more sleek and sharp look that will go with everything, then the ASICS GEL-Kayano 24 running shoes is the way to go. This beauty comes in many different colours, one being a very sleek pair - that is all black.
What's your foot position?
One of the most important aspects of running is taking care of your feet, as it's easy to damage them by running on gravel or concrete. Making sure your shoe fits according to your foot type, and most importantly, making sure that you are comfortable, should be a priority for all runners. Integrating the latest technology in runners, ASICS have created the best running shoes that are comfortable and fully-cushioned for all.
ASICS have also come up with the Pronation Guide, so that you can find the right shoes for your foot type. So, what is Pronation exactly? Pronation refers to the way your foot rolls inward for impact distribution upon landing. There are different types of classification for foot position; supination, neutral and overpronation, to name a few. ASICS offers a wide range of shoes made to fit each and every foot type.
Supinators:
Supinators are people who typically have high arches. The foot comes in contact with the ground in a way where the outer heel hits the ground at an increased angle with very little pronation. This sends out sudden shocks through the lower leg which can further cause injuries such as plantar fasciitis and shin splints. To avoid this, runners with high arches should opt for cushioned running shoes. ASICS GEL-Nimbus range would be the number one option as these are designed to have midsole cushioning, as well as cushioning along the outside and in the heel.
Neutral:
People who have a neutral foot, tend to have a normal arch. In this case, the foot lands on the outside of the heel, then pronates to absorb shock and support body weight. Neutral arches are less likely to injure themselves, however should look for fully-cushioned shoes. The GEL- Kenun or the GEL-Cumulus are the top leading runners in the ASICS range for neutral runners as they provide the perfect amount of cushioning support.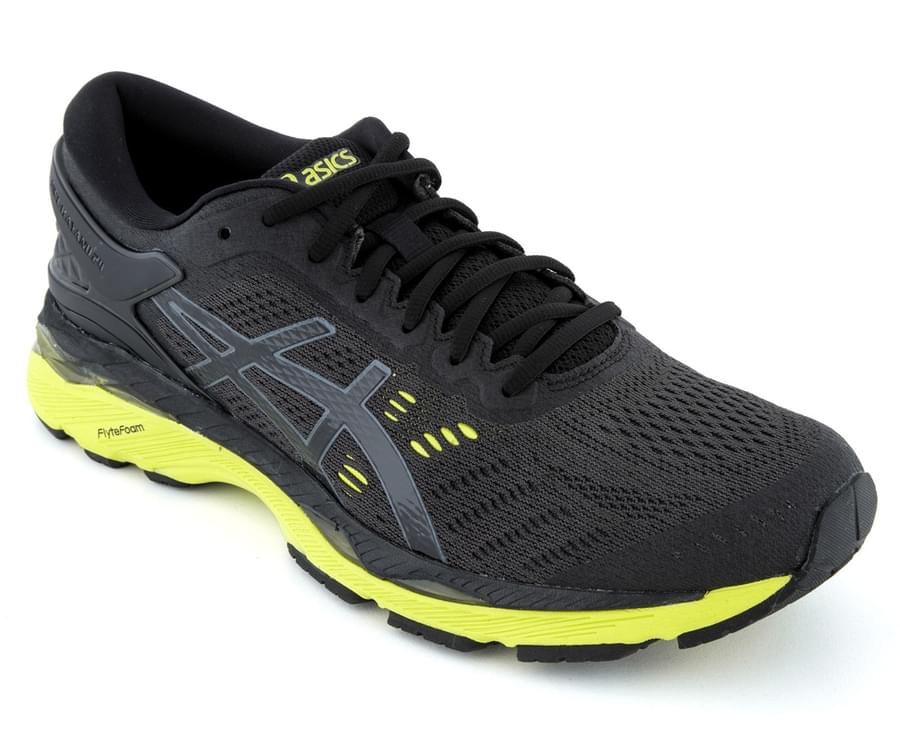 Overpronators:
Overpronators are runners who have 'flat feet'. Opposite to Supinators, overpronators transfer the weight to the inner edge instead of the ball of the foot. People with overpronation are prone to injury such as shin splints and plantar fasciitis - making it even more important to have maximum support, structure, cushioning and stability. The GEL-Kayano 24 are the perfect pair of shoes that provide stability.
Tech it up with ASICS
ASICS implement the latest technology in running shoes - making them last longer than ever.
SpEVA: Implemented in ASICS shoes, SpEVA is midsole material that is durable and perfect for those who love long-distance running.
Solyte: Designed to be extremely durable and light in weight, this material is designed to enhance cushioning in the midsole material.
Flyte Foam: The latest addition to ASICS technology is the Flyte Foam which is extremely light. This quality not only helps with greater mobility while running, it also helps runners with that extra spring upon ground impact.
Our budget-friendly picks
When it comes to quality runners, things can get expensive. Finding the right pair can be difficult, especially without going beyond your set budget. We bring you a range of ASICS running shoes under $150. Thank us later...
These shoes are ideal for casual runners. Perfect for a few kilometres outdoors or in the gym, this pair are your stock standard running shoe for just $100.
Designed for everyday comfort, the GEL-Venture 6 is the ultimate running shoe for the daily hustle.
Here's a budget-friendly pair ideal for people who love to go hiking or any other sort of off-road adventure. Highly durable, these shoes are designed to be worn on tough terrains.