Hailee Steinfeld's Sunglasses. Shop Hailee Steinfeld Eyewear by Privé Revaux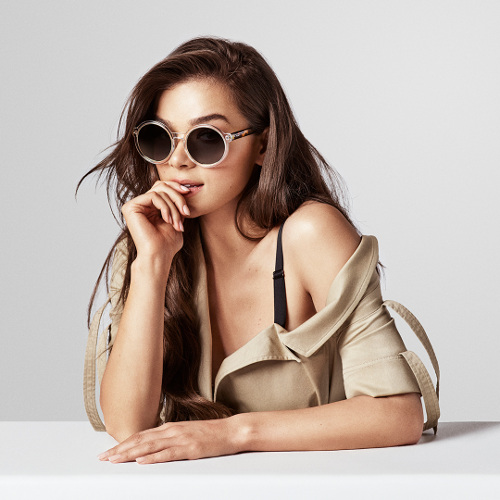 Prive Revaux have proudly partnered with American actress and singer Hailee Steinfeld, bringing you a range of sunglasses inspired by her diverse talents and charismatic style. After receiving an Oscar nomination at the age of 14, Hailee became a Hollywood darling overnight, but she has never been one to rest on her laurels. An engaging and diverse array of acting roles and modelling campaigns followed, before her emergence as a chart-topping singer and songwriter. Hailee has forged a career by consistently reframing herself, and now you can join her - facing your next challenge as an Artist or an Aphrodite- with Prive Revaux's range of affordable, luxury shades.
Reframe yourself with Hailee Steinfeld's designer sunglasses
Despite Hailee Steinfeld's evident passion for fashion - heading a campaign for luxury brand Miu Miu when she was just 14 was no mean feat - she never had a particularly large sunglasses collection, as she was always afraid of losing them. This all changed when Prive Revaux came along. With such bold and diverse designs to choose from, her eyewear arsenal has expanded fast. As well as marvelling at her high quality shades at such an affordable price point, she has found each design persona to be a perfect morning muse, stating they have named each of their styles after a different icon, so you can be inspired daily. Now Hailee can be seen shooting music videos as The Jetsetter, hitting the shops as The Heartbreaker, or kicking back in the Californian sun as The Connoisseur.
Looking at Hailee's extraordinary career - her resume boasts Academy Award and Golden Globe nominations, Shakespearean epics, cherished franchises and multi-platinum pop singles - it's hard to believe she was born in 1996; though her talent was always evident at a young age. She began acting when she was 8, appearing in several short movies; then - at just 13 years of age - she was picked from 1500 applicants for the role of Mattie Ross in the Coen brothers' remake of the classic western True Grit. Despite her age, Hailee didn't seem overawed co-starring in a film with Matt Damon, Josh Brolin and Jeff Bridges; on the contrary, she stole the show. Widely acclaimed as the head-turning movie performance of 2010, Hailee brought steel, poise and pathos to Mattie, while effortlessly mastering the southern vernacular. For her stunning performance she was nominated for Best Supporting Actress at the 83rd Academy awards.
Following True Grit, Hailee was cast as Juliet Capulet in the 2013 adaptation of Romeo and Juliet, a role she claimed despite being intended for a 20 year old actress, before co-starring in Pitch Perfect 2, showcasing for the first time that she has prestigious musical talents to match her acting ability. After playing her songs for a Republic Records representative, she was immediately signed to the label, and in 2015 released her debut EP Haiz. It quickly became apparent that music was not perceived as a mere side project for Hailee. Her catchy, sensual songwriting has seen singles such as Love Myself, Starving and Most Girls going platinum in numerous countries. Now as likely to be recognised for her hit singles as her Golden Globe nominated turn in The Edge Of Seventeen, Hailee continues to surprise and delight at every turn. At Prive Revaux, we can't wait to see what dynamic direction she takes next.