Celebrating 20 Years Of The ASICS Nimbus
No, we're not talking about the Nimbus 2000 (Although these are just as magical)
A true pioneer of the shoe game, the Nimbus has long been a favourite for all runners out there, from beginners to advanced. 20 years of continuous tweaking and technological grinding has led to ASICS releasing the Gel-Nimbus 20 in celebration of the Nimbus' anniversary.
The new and improved Nimbus features world class technologies such as SpEva Foam, FlyteFoam, Fluidride, Fluidfit and Trusstic system technology to deliver the ultimate running experience. The Gel-Nimbus 20 provide runners with cushioning, comfort and support during those long runs and will keep you going long after you've hit the wall. It's also available in a variety of styles for both men and women, ranging in colours from light pastel pinks and blues to monochrome options such as platinum and jet black.
Heads up to all you neutral pronators out there! That's fancy talk for someone with a 'normal' sized foot arch...
The Gel-Nimbus 20 has been specifically crafted for you. It features an abundance of cushioning and support that promotes natural foot motion.
Let's take a closer look...
3D Printed Overlay
ASICS has utilized modern tech and has created a 3D printed overlay for the Gel-Nimbus 20 that is designed to seamlessly wrap and mould to your foot, providing flex and support through the midfoot during your run but also allowing for more room in the toe area. The lack of stitching in the upper of the shoe also severely reduces the chances of friction or blisters occurring due to a misplaced overlay.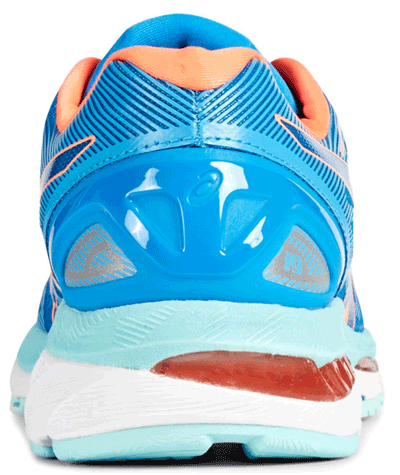 SpEVA
SpEVA is a combination of E.V.A foam and rubber ball material that provides comfort, cushioning, shock absorption and rebound properties. In the Gel-Nimbus 20, SpEVA foam is placed in the midsole for a plush and cushioned feel that leads to a lighter, seamless run.
FlyteFoam
Flytefoam is an ultra-light foam patented by ASICS designed to be placed into the midsole of the shoe. Flytefoam is 55% lighter than the industry standard EVA midsole material and contains reinforced fibers that are designed to last whether you're running 40 metres or 40 kilometres. Flytefoam is the heart of the Gel-Nimbus 20 package, providing 76% better cushioning than leading competitors.
Fluidfit
As a part of ASICS mission to constantly improve the way we move, they've discovered that while running, some parts of the foot form and mold differently than others. To combat this, they've created FluidFit, a mesh upper that combines elastic and non-elastic technology to seamlessly mould and support your foot throughout your run. ASICS FluidFit technology combines with the 3D printed overlay of the Gel-Nimbus 20 to continuously provide the ultimate run without wearing down.
For those who want to make a statement, the Baby Blue option is sure to turn a few heads. Packing all the bells and whistles that the Gel-Nimbus range provides, this shoe features a soft Baby Blue mesh & overlay with the classic ASICS Blue trim and an orange sole to really make it pop!
By far our favourite option for the guys, the Gel-Nimbus 20 in Black/Sulphur/Victoria Blue is built to improve your run ten-fold and look fresh while you're doing it. This option features a majority jet black mesh with victorian blue highlights and a bright yellow trim on the ASICS logo that matches with the laces and sole of the shoe to really help you stand out from the crowd.