One Direction Collector Doll - Zayn Malik
One Direction Collector Doll - Zayn Malik
The perfect gift for any girl who has affection for One Direction!
This is that 'One Thing' that the boys were singing about, so get it now!
Includes doll, outfit and shoes; perfect for making your doll perform impromptu concerts!
Has your little one caught the affection for One Direction? Undisputedly the biggest boy band in the world, One Direction have taken the world by storm with their boyish good looks and infectious music. With five in the band every girl has her favourite and now she can take home a replica doll of him! In a specially designed outfit this One Direction doll is the spitting image of her boy band crush!
Features:
One Direction Collector Doll
Zayn Malik
Includes doll, outfit and shoes
Great gift idea for 1D fans
Doll is approx. 33cm in height
For ages 5 years +
Protected by our 12 MONTH WARRANTY - see 'Warranty' tab with 12 Month Warranty Terms & Conditions for more info.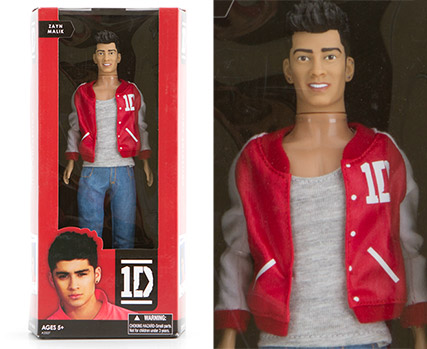 A Bit About The Brand / More Info
One Direction Collector Doll
Zayn Malik
Includes doll, outfit and shoes
Great gift idea for 1D fans
Doll is approx. 33cm in height
For ages 5 years +
Protected by our 12 MONTH WARRANTY