Seiko Men's 42.5mm 5 Sports SRPE67K Nylon Watch - Black/Silver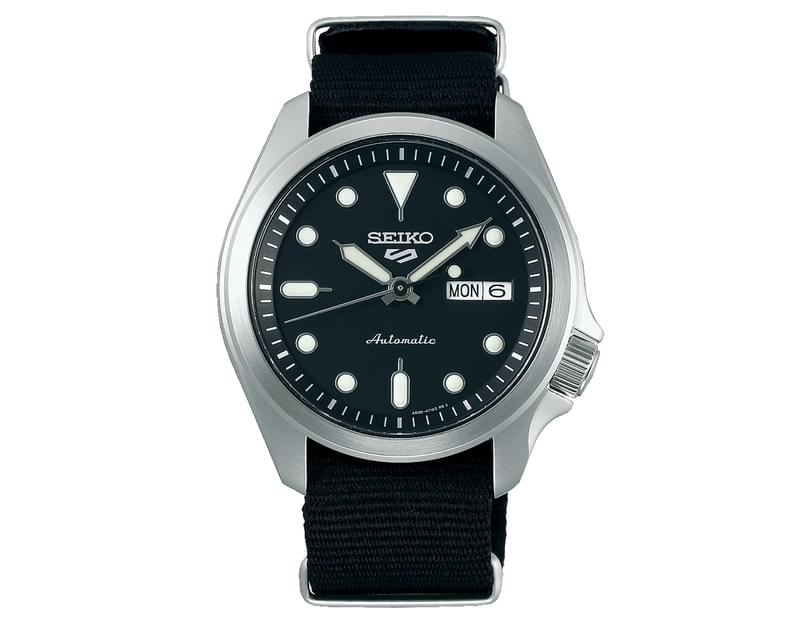 Seiko Men's 42.5mm 5 Sports SRPE67K Nylon Watch - Black/Silver
After a sports watch? You deserve something shiny from Seiko. Chock full of premium Japanese engineering, Seiko is the granddad of dive watches. Providing unmatched performance, there's no better sports watch on the market than a Seiko. If you're investing in a timepiece, make it one that can be handed down, father to son.
Features:
Seiko watches
For men
Series: 5 Sports
Model no.: SRPE67K
Movement: Automatic
Dial colour: Black
Band colour: Black
Case colour: Silver
Case material: Stainless Steel
Band material: Nylon
Band measurement (approx. mm): N/A
Case diameter (approx. mm, includes casing): 42.5
Case thickness (approx. mm): 13.4
Clasp type: Buckle
Water resistance: 100m / 10 ATM
Calendar: Date Display
Iconic sports watch style
Luxury timepiece
Original box: N/A
Designed in: Japan
3 YEAR MANUFACTURER WARRANTY
A Bit About The Brand / More Info
Seiko: Innovation in timekeeping
Seiko believes every timepiece is an intimate accessory. Creating a watch that creates an intimate connection with its wearer is paramount to the Seiko vision, making it one of the most iconic watchmakers today. With ongoing innovation in timekeeping technology and a keen eye for style, Seiko continues to deliver the most gorgeously practical watches, packed full of various technologies that let you take life to the next level, every day. Explore a massive range of watches and all your favourite big brands under one roof, right here at Catch!
Watches made for adventure
The SKA747P-2 Kinetic Watch in sleek black is built with water resistance of up to 100 meters, a durable buckle clasp and stainless steel casing. This kinetic watch is powered by the movement of the wearer, requiring no battery changes. This stylish timepiece is perfect for everyday adventure, no matter if you're in the office, off the grid or anywhere in between.
Glamorous timepieces fit for any occasion
The women's SRZ478P watch is the most elegant choice of wristwatch, with stainless steel build supporting a glamorously golden shine and simple roman numeral face. Protected by scratch-resistant Hardlex crystal, this classic looking white dial with black markers completes this women's wristwatch that's as fit for the runway as it is for the weekend.
Explore Catch today and save big!
With all your favourite brands under one roof and at prices you won't find elsewhere, you can stop searching and start saving today. Check out a massive range of men's and women's watches and all the biggest brands - right here at Catch!